Since its founding, the firm has grown to a mid-size law firm where the partners have a genuine camaraderie and a dynamic and young vibe amongst its staff. There is a team mentality, a family atmosphere and a shared desire to help clients.
Goede Adamczyk DeBoest & Cross, PLLC will continue the tradition of integrity, advocacy and collaboration that is reflected in the firm's rich and varied long-term client relationships, all built on mutual respect.
It's more than our relationship with the law.
It's our relationship with you.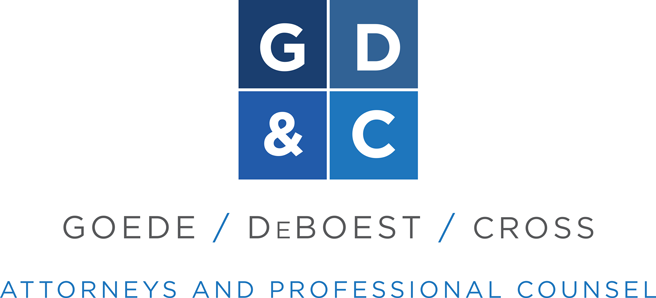 The predecessor to GD&C was formed in 2013, when Goede & Adamczyk, PLLC merged with Condo & HOA Law Group, PLLC. This was the beginning of the partnership between John Goede and Richard DeBoest. The two previously knew each other and even referred clients to one another. They often attended the same legal events, where a lively conversation ensued. After several of those conversations, they decided to formally discuss their mutual interests and what they discovered was a common goal: To better serve their clients on a variety of legal matters.
With the merger, DeBoest' s previous desire to satisfy the requests of his clients for non-community association legal work came to fruition. For Goede, adding one of the leading community association law practices provided more resources and greater efficiency for all clients. By combining the two firms, they maximized their services, improved efficiency and provided added value for their clients.
Today, GD&C is led by John Goede, Richard DeBoest, and Brian Cross, representing a combined 73 years of practicing law. The two firms came together with a bigger dream and a grand vision of what could be if they joined forces. With a broad range of practice areas including community association law, real estate, commercial litigation, estate planning, probate, corporate and business law, banking and financial services, family law, insurance coverage and carrier representation, personal injury, medical malpractice, class actions and mass torts, alcohol beverage, food, and cannabis law, residential, resort and club, restaurant and hospitality law, they would have the ability to meet their clients' wide range of legal needs.
John Goede began practicing law in 1998. Goede created a strong Community Association and Real Estate law practice. Today, Goede represents numerous community associations and represents real estate developer clients focusing on office buildings, mixed-use projects, residential developments, retail projects, multi-family residential projects and industrial and warehouse properties. Goede has vast experience with contract and lease drafting, title examination and title insurance.
Richard D. DeBoest, II began practicing law in 1993. As a proud second-generation community association lawyer, he was inspired by his father, Richard. D. DeBoest, who recorded the first condominium declaration in South West Florida in 1963, after Florida's Condominium Act was passed. As a result, DeBoest began his practice with a strong focus on Condominium and HOA Law.
Brian Cross, who began practicing in 2008, is the Firm's Managing Partner and practices complex commercial litigation which includes community association, real estate, construction defect and business disputes.